MAA 40th Annual Fall Juried Art Exhibition
The Opening Reception for this year's Fall Exhibition will be held Thursday evening on October 12th from 6:30 till 8:30p.m. in the McCormick Gallery at Midland College.  The Juror for the show is Chad Plunkett of Lubbock. Born in Denedin, New Zealand, Chad is the Director of the Charles Adams Studio Project in Lubbock, and he creates his own artistic works in paint, steel, wood, paper and a variety of other materials. Juror Plunkett will do a talk in the McCormick Gallery at 2:00 p.m. on October 7th.  It is open to everyone.
Submission guidelines
Members and non-members of the Midland Arts Association will find the entry prospectus online at our website: www.maatx.org or you obtain a printed copy when you check in your
artwork on Saturday, October 7th, from 10a.m. until 2p.m. MAA makes a 20% commission on
all sales from the exhibition, and selected works must remain on display for the duration of the
show; no exceptions. Instructions for sending works via commercial carrier can be seen in the prospectus.
Accepted media
Categories for artwork include: Ceramics, sculpture, glass, drawing, graphics, painting, fiber, photography, and mixed media. Several cash awards will be presented at the Juror's designation.  Entry fees are $30 for current MAA Members which allows for three works to be entered. The entry fee is $45 for non-members (also for three entries per person). Two dimensional works must be properly prepared to hang on the wall.  The Exhibition runs through November 10th.
Shared Spaces Show Exhibiting Artworks
Artworks are on display in a new rotation by artists from Midland Arts Association, the Midland Palette Club, MARC, and the Sibley Camera Club through November at Midland Shared Spaces, 3500 N. "A" Street.  The artists exhibiting on the ground floor include photographer Geoff Browne, and painters Brad King, Dee Kemp, and Carol Henson. The MARC artists are Wayne
Crisp, Susan Clancy, Ginny Griffin, and an "all clients" painting.  Upstairs the exhibitors are: Aaron Bedell, Lisa Frosch, Sue Roberson, Shanker Nair, Olga Nedorub, Sue Daniel, Liz Culp,
photographers Bob and Diane Newland, April Dickerson, and Jean Hoelscher.  Sue Daniel, the MAA representative to Shared Spaces says, "The rotations happen four times a year, and the opportunity is available to any local nonprofit art group."  To contact Sue, phone (432) 438-0848.
Demonstration September 23rd of Ceramics at Midland College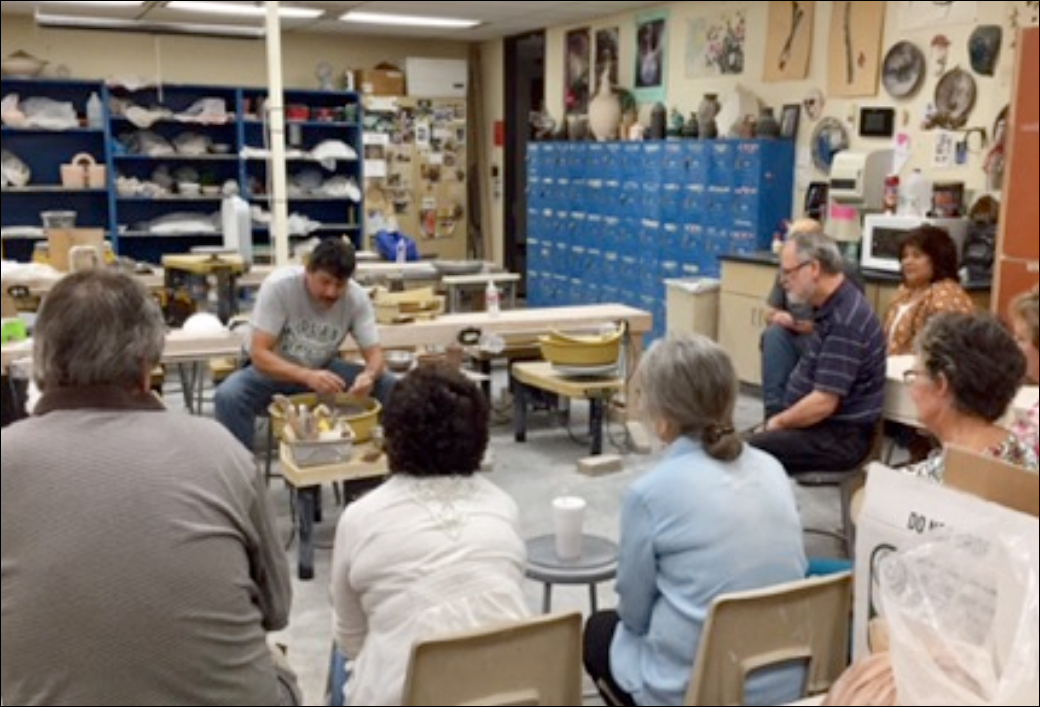 Ceramist Jesse Trejo presented an informative and well prepared demonstration of his work with clay in the Midland College Ceramics Classroom on Saturday morning, September 23rd.. Those attending really had an enjoyable learning experience. This presentation was arranged by Leslie Slaughter, a well known glass artist and the MAA Program Chair.
Jesse makes some of his own tools and over the years has learned many special methods of
working which he shared at the demonstration.
Calendar of Events
October 7th
Drop-off day at MCC for entries to MAA Fall Show
October 9 -13
Ken Hosmer Workshop presented by the Midland Palette Club (see their website at
www.paletteclubmidland.com for complete details).
October 10
Meeting and a free demo by watercolorist Ken Hosmer at the Midland Palette Club starting
at 9:30 a.m.
October 12
Opening Reception for the 40th Annual MAA Fall Show 6:30 p.m. till 8:30 p.m. in the Allison
Fine Arts Bldg. Midland College
October 18
Fused Glass Workshop by Leslie Slaughter, 6 – 9 p.m. at the Palette Club. Cost $45 Contact:
Leslie.Slaughter@gmail.com
November 6
Watercolor Workshop by Ken Rowland. $50 at the Palette Club. See website for details
at www.paletteclubmidland.com
November 10
Last day of the MAA Fall Show at Midland College
November 14th
Meeting and Free Demo of the Palette Club with Tim Oliver, watercolorist from Lubbock.
9:30 a.m. until noon
The display artists for the downtown Community National Bank Lobby

Located at 401 W. Texas Avenue, corner of Big Spring St.
Till September 30th – Diane Browne is exhibiting
In October – Brad King will be on display
During November – Sue Daniel will show her work
In December – Jean Leeper Hoelscher will exhibit
To get on the exhibition schedule, contact Diane Newland
by phone: 694-0565 or email: bkdrn@grandecom.net
Opportunities for artists to meet and learn are offered by the Midland Arts Association throughout the year.
* Exhibition opportunities are varied and open to everyone. MAA Members get a reduced
rate when there is a fee involved.
* Demonstrations of a variety of media give artists a chance to consider new methods.
* Social settings, such as the popular Wine & Paint venues, the Plein Air paint outs, and this
past summer's live model drawing events, help artists expand their work and get to know each
other.
* Sharing information with and about other arts organizations informs MAA Members of the
community of the arts in the Permian Basin.
Parting Shots